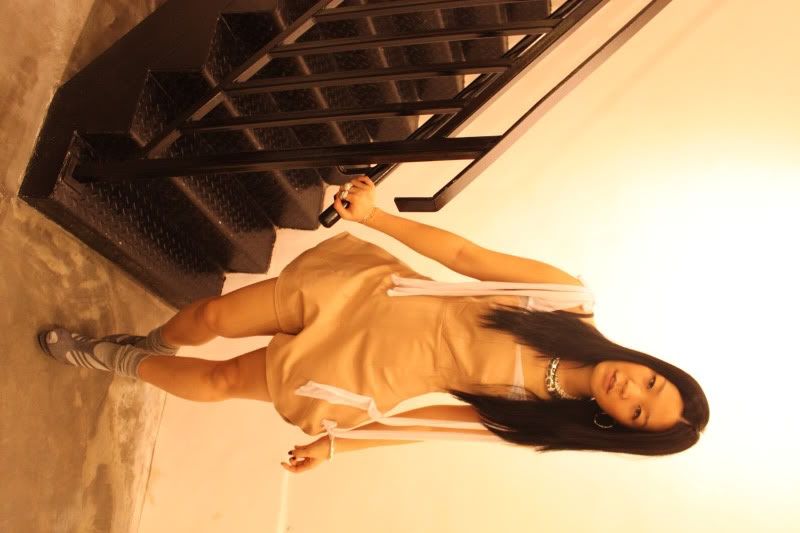 Wearing: Bruno Pieters dusty rose romper, Rue du Mail tank, Agatha jewelry
Location: Forest Bird, Central
穿着:
Bruno Pieters
灰蒙玫瑰连身短裤,
Rue du Mail
背心,
Agatha
饰物
地点:中环
Forest Bird
Seeing this color on me reminds me of the hidden romantic side residing somewhere in me. Most of you know while I am very fashion-forward, I stray away away away from pinks or anything flowly, frilly or romantic. Still, I blame it on Carrie Bradshaw. I am on a SATC maranthon, running from one season to the next. Yes, I started from the beginning. I seemed like a mini Carrie, except her thoughts were clearer and more concisely expressed compared to my constant ramblings.
I am on the frontier of emotional realization, of my current standing in my on-going controversial reaction. I decided that I couldn't find an answer to , "What is a relationship?" or "Why do we tend to allow one negative comments to derail all the positive ones?"
看着这颜色唤起我埋藏于心里浪漫的一面。你们很多人知道我穿得时尚的同时,我对粉红色或任何很飘逸,镶褶边的或浪漫的衣物都很抗拒。我还要把这归咎于
Carrie Bradshaw
。我正在追看
SATC
,一季一季地追。对,我从头开始看。我想一个迷你版的
Carrie
,除了她的头脑清醒一点,说话比我一贯的杂乱无章有条理一点。
我处于情绪认知的边缘,持续有分歧反应的位置。对于一段关系是什么,或者是我们为什么一个负面的意见推翻所有正面的意见等问题,我知道我不会找到答案。
I figured out that the answers lie within me. I can't expect to find answers within someone. After all, we can change our surroundings, we can change our clothes but we can't change others. I can only change myself. I decided to trust in myself and enjoy all the lovely thoughts which come with my dusty rose colored clothing.
The joy of bubbles in the garden, roses in the sun light, dancing in the rain, watching the sunset and lying in lush grass. I have to learn that without trust, there is nothing else. So, either I trust or I walk.
I choose to take a risk, and trust...
我发现答案就在我身上。我不能期望从别人身上找到答案。毕竟我们可以改变身边环境,可以改变自己的衣装,可是我们不可能改变其他的。我只可以改变自己。我决定要相信自己和享受所有者灰蒙玫瑰色衣服带来的好的思想。
在花园里快乐的泡泡,阳光下的玫瑰,在雨中跳舞,看夕阳下山和卧在青葱的草原上。我要学习没有信任,就不会有其他了。那就是,我可以选择信任或者自己走。