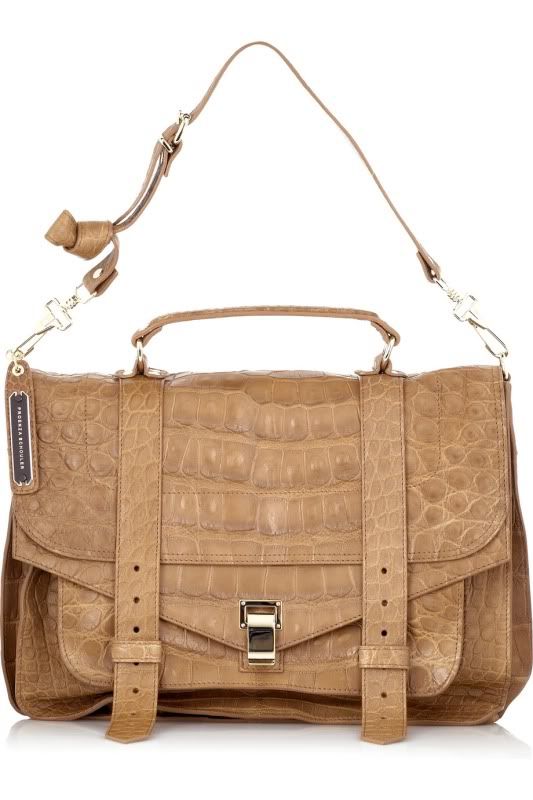 Proenza Schouler PS1 Large Croc
Proenza Schouler PS1
大鳄鱼皮包
I have always wanted this tote. When I saw it in this color and make, I started craving for it all over again. But with the price tag at over $14,000. It seems pretty steep but this bag would be the bag of my dreams.
我一直都很想要这个包包。当我看到这个颜色和款色,我又开始想要这个包。不过着价值超过一万四。虽然满贵的,但是这是我梦想要的包。
Pamela Love double claw connector ring
I jumped on the connector ring band wagon pretty early so I have a huge collection of rings which give no room for my fingers to move. It's quite liberating to say, "Sorry I can't hold those grapes for you because I can't seperate my fingers."
我以前已经喜欢连接的戒指,所以我收藏了很多戒指,多得如果把全部都戴在手指手指会动不了。我可以很自由地说,"对不起我不能帮你拿着葡萄,因为我的手指分不开。"
It's safe to say that I am slowly moving out of my black phase. I knnow you can't ever go wrong with black, but what's wrong with going wrong once in a while? There are no real wrongs in wearing what you like. Blabber aside, I saw these babies in Lane Crawford and thought they were a wonderful substitute for black platform wedges. Summer anyone?
我可以保守的说我在慢慢地退出黑色的阶段了。我知道穿黑色永远错不了,但是有时候错一次有这样呢?穿自己喜欢的不可以说是错。废话少说,我在连卡佛看到这双宝贝,觉得它们是黑色高底鞋很好的代替品。夏天要到了各位。
*****
Went web surfing today and went to
Accessorize
to check out their store. I was surprised at how much I liked. Few items I would wear time and again?
今天上网,浏览了
Accessorize
的商店。有点被自己喜欢的产品的数量吓倒了。我很少找到我会用完再用的产品?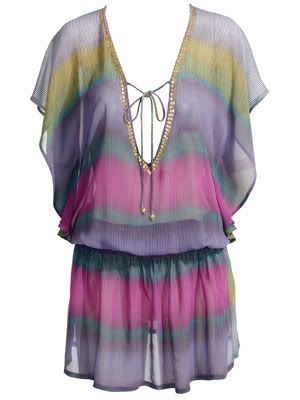 Optical Ombre Stripe Kaftan
- Perfect for lazy days at the beach and romantic dinners on the harbor. I see myself wearing it with a fun bikini and shorts. Wavy hair and sun, sun, sun. Can't wait for summer to come around.
Optical Ombre Stripe Kaftan
-
在沙滩慵懒的日子和在海岸边浪漫的晚餐最适合不过了。我可以联想到自己穿有趣的比基尼和短裤配这个。卷曲的头发和太阳,太阳,太阳。希望夏天可以快点来临。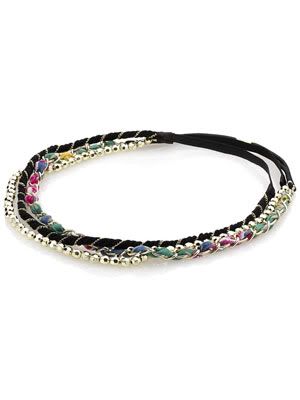 Belize Woven Chain Bando Pack
- When I am wearing a really simple outfit and cant be bothered with anything else, I flip my head upside down, use half a can of hair-spray and slap one of these things on my forehead. I am looking for one that doesn't leave lines on my head. Anyone?
Belize Woven Chain Bando Pack
-
当我穿一套很简单的装束,不可以加佩其他的衣饰,我把头倒过来,用很多的发胶,然后加这个在额头上。我在找一个不会在额头上留痕的。有没有人可以给点意见呢?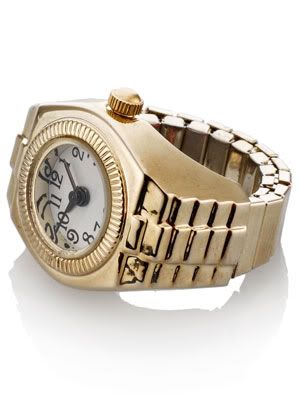 Grandfather clock ring watch
- I remember wanting one of these when I was younger and saw them in the watch store. This is a revised version and in gold. Nerdy come-back?
Grandfather clock ring watch
-
我记得小时候想要一个,在钟表店里看过。这是一个新款的金色的。呆子流行回归?
*****
One thing I want the most...
xx