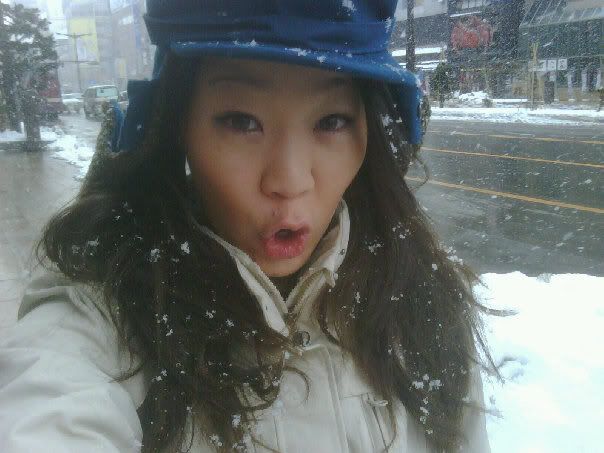 Wearing: Zara men:s hat, Valerie wacky attitude (double dose)

穿着:Zara男性帽子,Valerie古怪的个性(双倍剂量)


Excuse the odd face, I wanted this to be my "fashionable picture" for 2009. Kinda odd but, I think its quite suiable about the way I want to tackle the following year. With an extra burst of attitude gusto and crazy energy. Completely guessing that it:s the best way to go?

Anyways, you remember how Johnny Depp shocked the world with his "Charlie & the Chocolate Factory" debut? I think I met the Japanese Willy Wonka. No joke. In Sapporo today and went to this 'cookie factory' where they supposedly produced one of Hokkaido's signature products, this wafer-thin cookie sandwiching a thin square of milkly white chocolate. Yum.

Behold the Japanese Wonka factory....

别计较我奇怪的表情,我希望这个表情能成为专属我的奇怪表情,我希望这能成为我2009年的「时尚照片」。虽然是有点奇怪,可是我觉得还蛮适合我准备应付这年的方式。有额外的趣味性和热情。完全在想这会是最好的方式去应付2010年?
言归正传,你还记得约翰尼•德普是怎样用他在「查理和巧克力工厂」的亮相让全世界震惊吗?我想我遇到了日本的威利•万卡。我不是在开玩笑,是真的。今天在札幌,我参观了一个生产北海道土产的小甜饼工厂,尝到了极薄的小甜饼包着薄薄的一层白巧克力,让人回味无穷。
现在就来看一看日本的万卡工厂吧。。。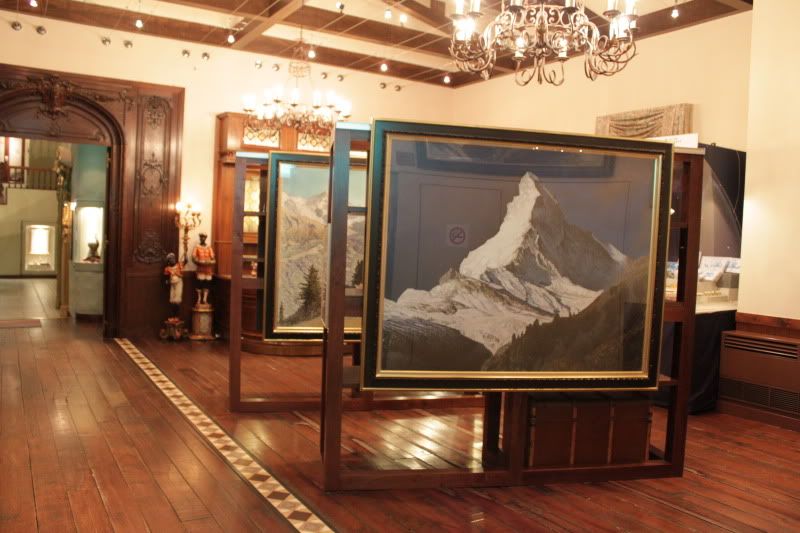 Yes. Those are tiny snowmen in the windows. How cute is that?

I was stopping myselt with excessive restraint to try and not step up to the ledge and steal one.

是的,在窗边的是一个一个的小雪人。很可爱吧?我一直要阻止自己去试图从阳台偷一个回家。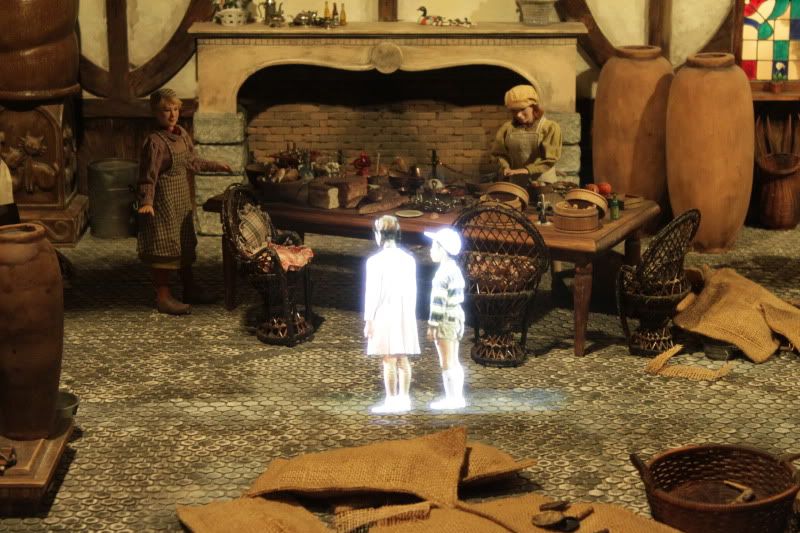 They even had this crazy display of teacups from different centuries. I thought the floral ones were too cute. Anyways, I think the coolest ting I saw there is this miniature model of the factory in a display cabinet. I was mumbling to myself, wow... this is cool mini men stirring in their chocolate pots. Then, I saw some Star Wars action happen and two 3-D kids were beamed into the box... My first reaction... WHOA. that:s not cool.

Actually, it kinda is.

他们还有很多不同世纪的茶杯。我觉得这种花的茶杯真得太可爱了。可是,我觉得那里最酷的东西是放在展览柜子里的工厂模型。那时候的我在心里赞叹不已:「哇。。。」这是很酷的小小的人在搅拌一锅子的巧克力。然后,我看到一些出现在星球大战里面的情节:两个3-D小孩被投射到盒子里去。。。我第一个反应。。。「哇,超逊的。」
其实,也真得满酷的。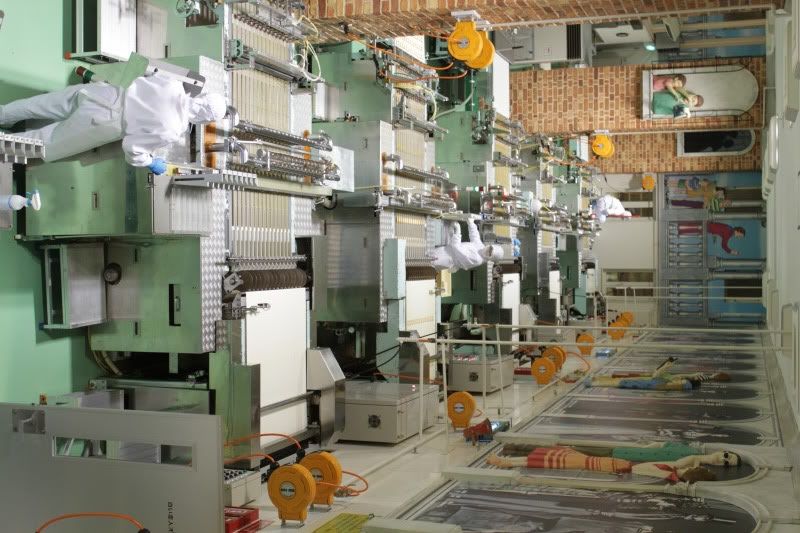 My favourite part? The cookie assembling line where you see part? The cookie assembling line where you see the delicious cookies roll by simultaneously on conveyor belts. I wish I able to step in there and just nibble on the cookies.

哪是我最喜欢的部分?你看到那小甜饼的生产线吗?在那边,你可以看到美味的小甜饼同时在输送带上滚动。我真希望我可以走进去一直啃那些小甜饼。

This is one killer ico-cream cone with a dainty gingerbread star cookie stabbed into it! Like the dainty gingerbread star cookie stabbed into it! Like the original Willy Wonka, I was not able to meet the person behind such a wonderful idea for creating a land where it seems like all dreams come true. Because my dreams came true, when I watche into this my dreams came true, when I walked into this tunnel of dripping chocolate.
Click
here
to see their official website and the most ingenius cookie design layout! crazy...
这是一个超好吃的冰淇淋蛋卷,上面还有一个美味的星形姜饼!我真的很喜欢上面的那个星形姜饼!像原版的威利•万卡一样,我没机会认识那个想到建立一片好像所有梦都能成真的乐土的人。因为我的梦成真了,我在参观工厂的时候我的梦成真了,我在看这巧克力在上面滴溜的管道我的梦成真了。
按此进工厂的
网页
,看最具独创性的小甜饼设计!真让人目瞪口呆。。。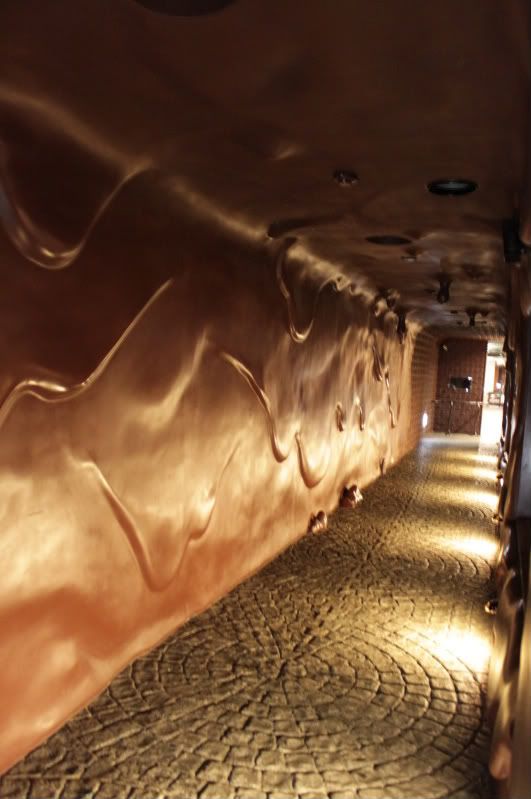 In Niseko now, tell you more tomorrow.

Happy 2010!

现在人在二世古,明天再跟你多分享一点。
2010年快乐!

xx, Val

P.S. I have more Chinese readers now and there was a request to have a chinese translation. So, thanks to the fantantastic W.Chik, it:s been possible. Thank you.