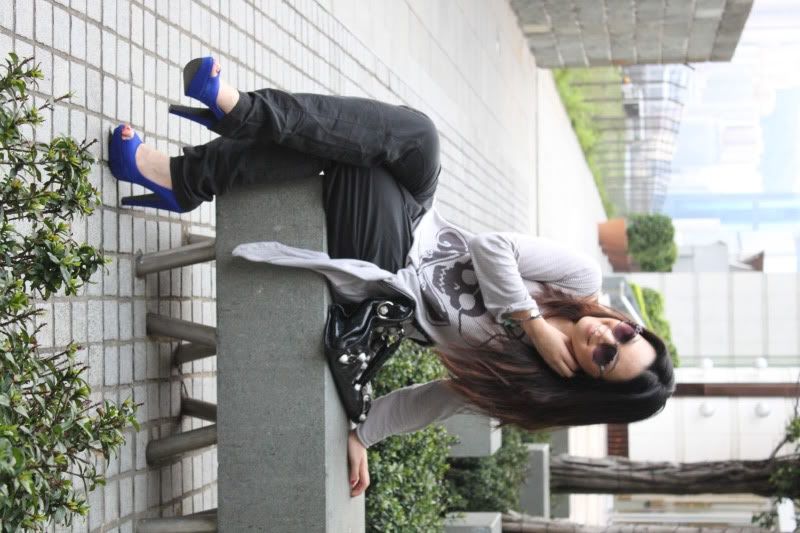 Wearing: Zara shirt and pants, Balenciaga tote, Aldo Shoes, Cotton On sunnies
Know those days where you have a sleepless night and you wake up feeling fat, bloated and lacking in beauty? Well, woke up this morning feeling like that. Still, had to go to a
nice
dinner in a
nice
place. So, I had to dress nicely. This is me trying my best to dress nicely on a fat dress.
穿着:
Zara
上衣和裤子,
Balenciaga
手提包,
Aldo
鞋子,
CottonOn
墨镜
你知道那种感觉吗,那种一夜未眠早上起来觉得自己很胖,臃肿和对自己的外表缺乏信心的感觉。我今天起来的时候就有这种感觉。不过,还是要去一个满高级的地方吃晚饭。所以,我还是要好好装扮一下。这是已经尽了全力去穿一件松身裙子的我。
My trusty fat-covering, flowly, cottonly top and these harem-ish trousers which I am absolutely in love with because it makes me look tidy while I am looking sloppy. :) My number one rule for looking good is... have a pretty face and anything goes. Then, throw on some nice heels and BAM. Million bucks.
Eh, I look like 99 bucks. Oh well.
我可靠的松身,可以把身上的脂肪遮盖住的棉质上衣和这条有一点点伊斯兰教色彩的裤子。这是我现在非常爱的裤子,因为无论我打扮得有多拉塔,它都可以让我看起来很整齐。:)我的外形守则第一条是。。。拥有一张漂亮的脸穿什么都可以。然后,穿上一双漂亮的高跟鞋。看起来像过百万那么高贵。