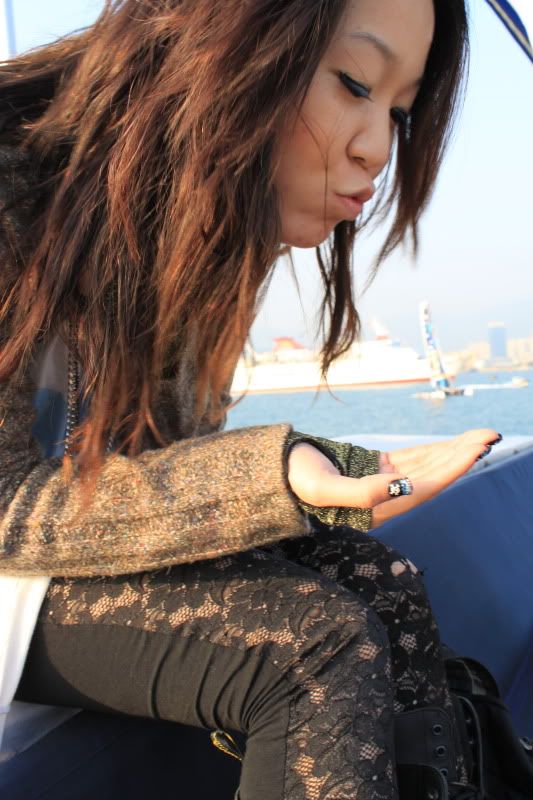 Wearing: Em sweater jacket, Oliver Goldsmith sunglasses, Miss Sixty Slip, Doc Martens, Balenciaga tote, AGATHA jewelry

It was one of those super surreal things I do occassionally that leave me breatheless, excited and in a dazed. My friend, Eric invited me on a special day trip where I had the opportunity to sail with Roman Hagara and Hans Perter Steinacher, a two-time Olympic winning sailing team. After bagging the Gold medal in 2000 and 2004 Olympics, they have cemented their place in sailing history. This time, together with Andrew MacPherson and Gerd Habermuller, they joined in to challenge amazing teams from around the world. Imagine my excitement when I found I was to be the fifth man on their boat, Team Red Bull, in their Hong Kong race for the Extremem Sailing Series. Exciting. Nervous.

In a brief interview, the duo shared their experience in winning the medal, the hard work it took to make that winning moment all the more fulfilling. I later learnt that today was their last day in the five-day race. For such a physically exhausting and intensive sport, they were amazing sports during the interview.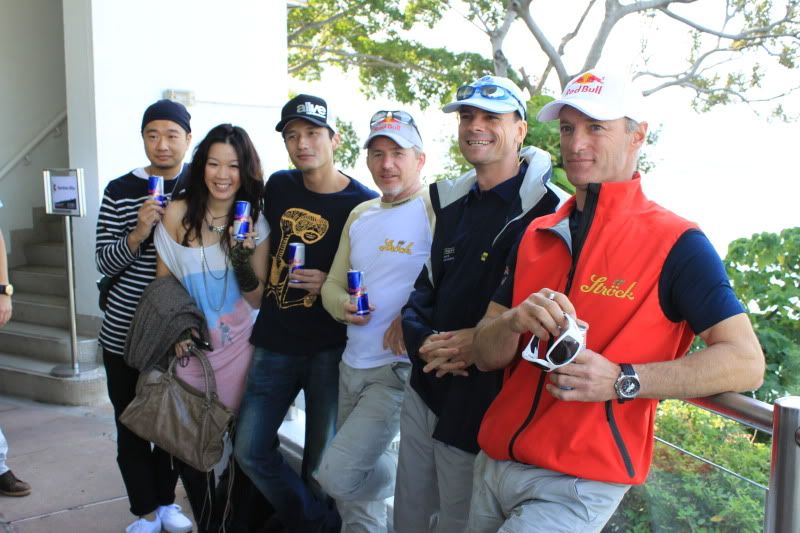 Here's a nice group photo with the duo, the Austrian consulate, Terrence Yin and Makim from MILK magazine. After haven't seeing Terrence for months, it was good to finally hang out with him. He's been busy doing this theatre play I am dying to see.

The race took place in the Hong Kong Harbor, smack in the middle of the city, it was a show for the whole of HK to see. The 19-metre high and 13-metre long Red Bull Extreme Sailing Team Catamaran was an impressive sight. Colorful, majestic and kinda 'wow'. The race was to be a series of 5 races around the Hong Kong waters. The spectators and special quests patiently awaited the exciting sail upon a junk in middle of all the action.

In between... we hung out and chatted.

Makim from MILK

My buddy Eric. Love this guy. So real.

It was sooo sunny, Terence and Eric served as my wall of shade.. :) I must have been talking gibberish.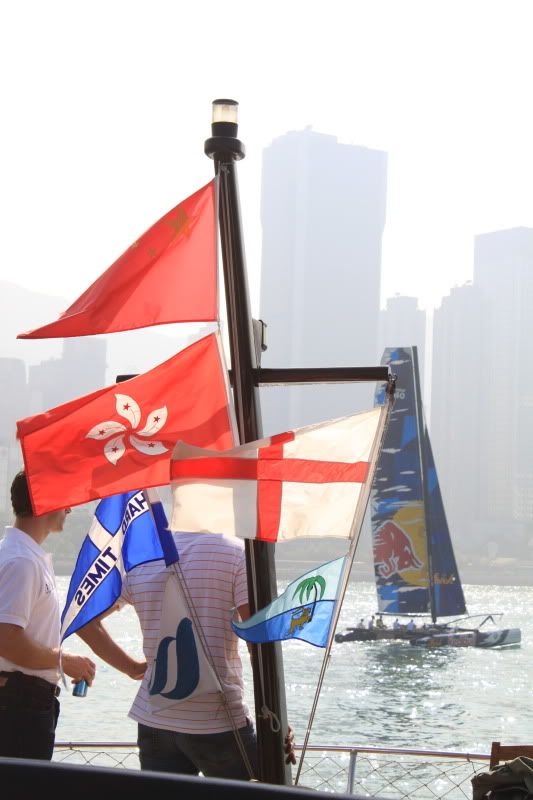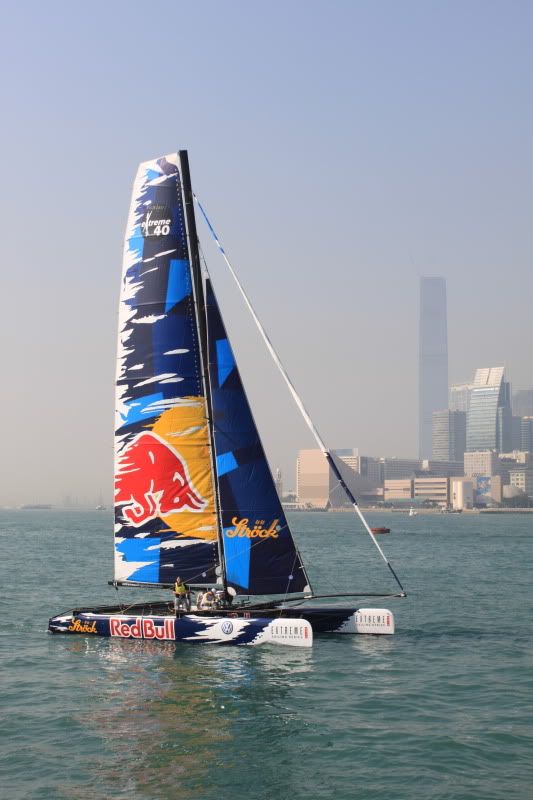 Presenting Team Red Bull! Woo-hoo!

Look at Terence!! He came super close!
I hadd sooo many cans of Red Bull! Those things kept me happy and non sea-sick. Amazing!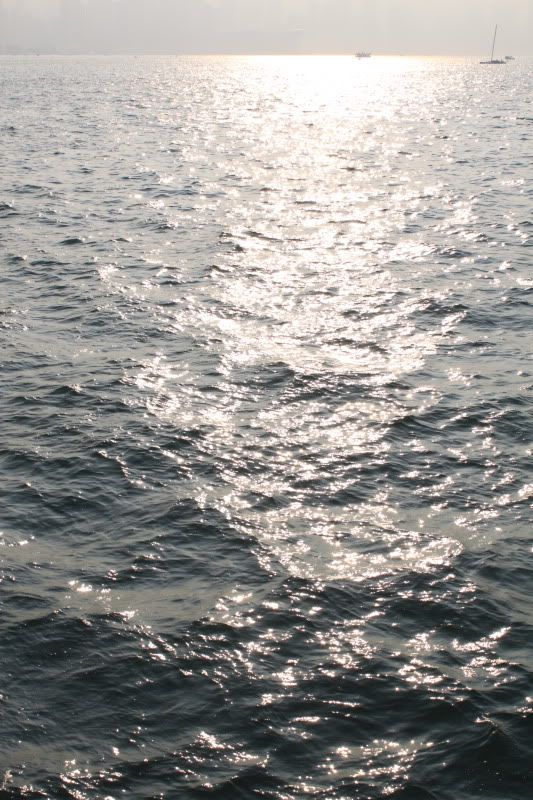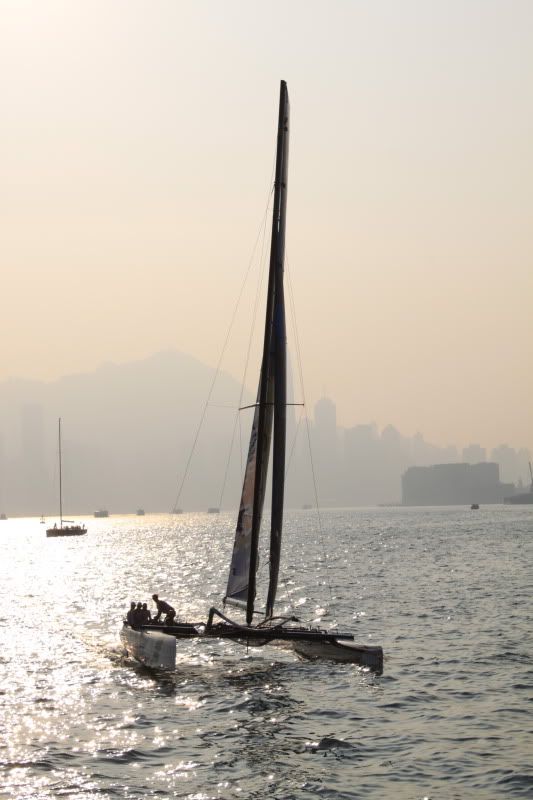 Hong Kong was perfect for this event yesterday... look at this.... Team Red Bull looks sooo pretty against the sea...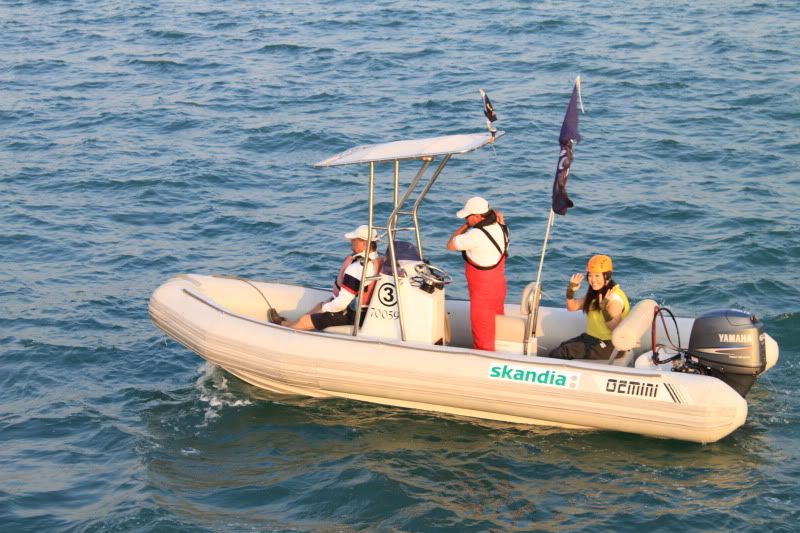 Then, it's MY TURN! Too bad my lovely photographer couldn't come onboard, I would have taken photos of the majestic sail unfolding. Tried and captured the meticulos workmanship and team work necessary to make this catamaran sail smoothly. I felt like a pioneer upon that boat, it's one of those experience that leave you speakless and in awe of everything graceful and smoothe. It was like flying over the water. For that duration, it was comforting with the occasional creaking of the sails, the wordless communication between the sailors. Absolutely awesome.

I don't know if you can see me, but I am on that boat!:))

Me and my safety equipment. haha. I personally thought the sailing gear was quite stylish.

It was a once in a lifetime opportunity with admirable sailors and good friend. Most importantly, I relished every moment of it. I think I found a new hobby.

Happy Sailing!